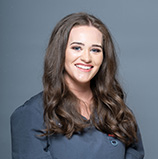 Aisling McKane
Dental Therapist
Aisling graduated from the University of Sheffield and joined the practice not long after graduation.  She is dual qualifications as a dental therapist and a dental hygienist.
Aisling enjoys helping patients at the beginning of their treatment journey with the practice. Healthy gums and periodontal health forms the building blocks that our dentists Claire and Aimee can build upon with further cosmetic and restorative treatments. She enjoys seeing patients after they have completed their treatment plans, especially those that are nervous at the beginning stages of treatment and return with so much more confidence in themselves and their smiles.
Outside of work, she loves to meet up with friends for coffee and spend quality time with her family.  She also to loves to travel and has visited some European cities since lockdown.
Back to Team