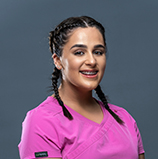 Amy Cowan
Dental Nurse
Amy joined us having worked in another dental practice.  She worked in retail for a couple of years before then.
Amy's favourite thing about her job is seeing patients' final reactions by looking into the mirror that is held in front of their faces at their last treatment appointment.  She finds it makes her smile knowing they are always even more pleased with their results than they initially expected. Cosmetic dentistry is a new part of dentistry to Amy, as she previously worked in general practice, and she is loving every minute she is assisting.
When she is not at work she's either in a gym or at a kickboxing class. She was a champion Irish dancer having competed on the world stage, unfortunately, she had to stop due to injury.
Amy has two pets which get her full attention, her dog Cali and bunny rabbit Lily.
Amy likes to spend her weekends going out for dinner with her friends for a catch-up.
Back to Team